Indulge in the savory flavors of Pad Thai, a popular and mouth-watering dish that should not be missed. Learn about the origins and ingredients of this classic Thai cuisine and discover why it has become a favorite of food enthusiasts worldwide. Try out different variations and enjoy a satisfying culinary experience with Pad Thai.
Introducing Pad Thai
Popular Thai food called pad Thai is from that country. It is a stir-fried noodle dish that is frequently prepared with flat, thin rice noodles, vegetables like bean sprouts and scallions, protein like shrimp, chicken, or tofu, and a sauce made of tamarind paste, fish sauce, and sugar.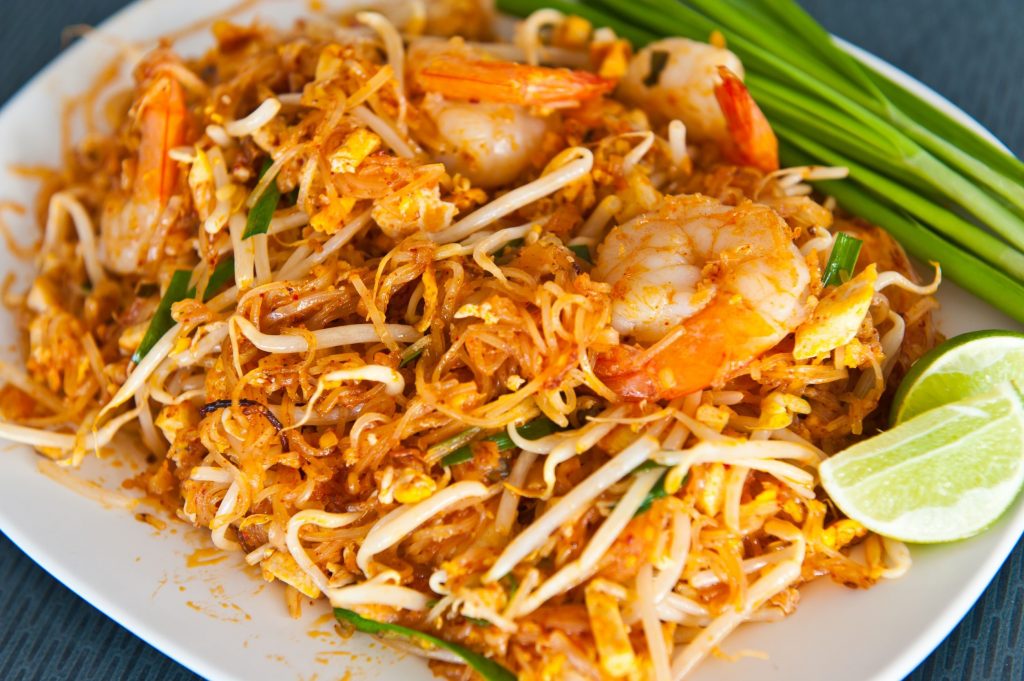 Lime wedges, cilantro, and crushed peanuts are frequently used as garnishes on the dish. A favorite in Thai restaurants all over the world as well as a common street meal in Thailand, Pad Thai is noted for its sweet and sour flavor combination.
It is believed that Pad Thai was developed in the 1930s, a time of political upheaval and modernisation in Thailand, as a means of fostering a sense of national identity. Today, there are numerous variations on the classic meal, with many regions and chefs adding their own twists and flavors. It is a beloved dish in Thailand and throughout the world.
2. Taste of Pad Thai
Pad Thai has a distinct flavor profile that combines sweet, sour, and savory elements. The tamarind paste gives the sauce its sourness, while palm sugar or brown sugar gives it its sweetness. Fish sauce and soy sauce are used to give the sauce its savory umami flavor, which is often offset with lime juice's acidity.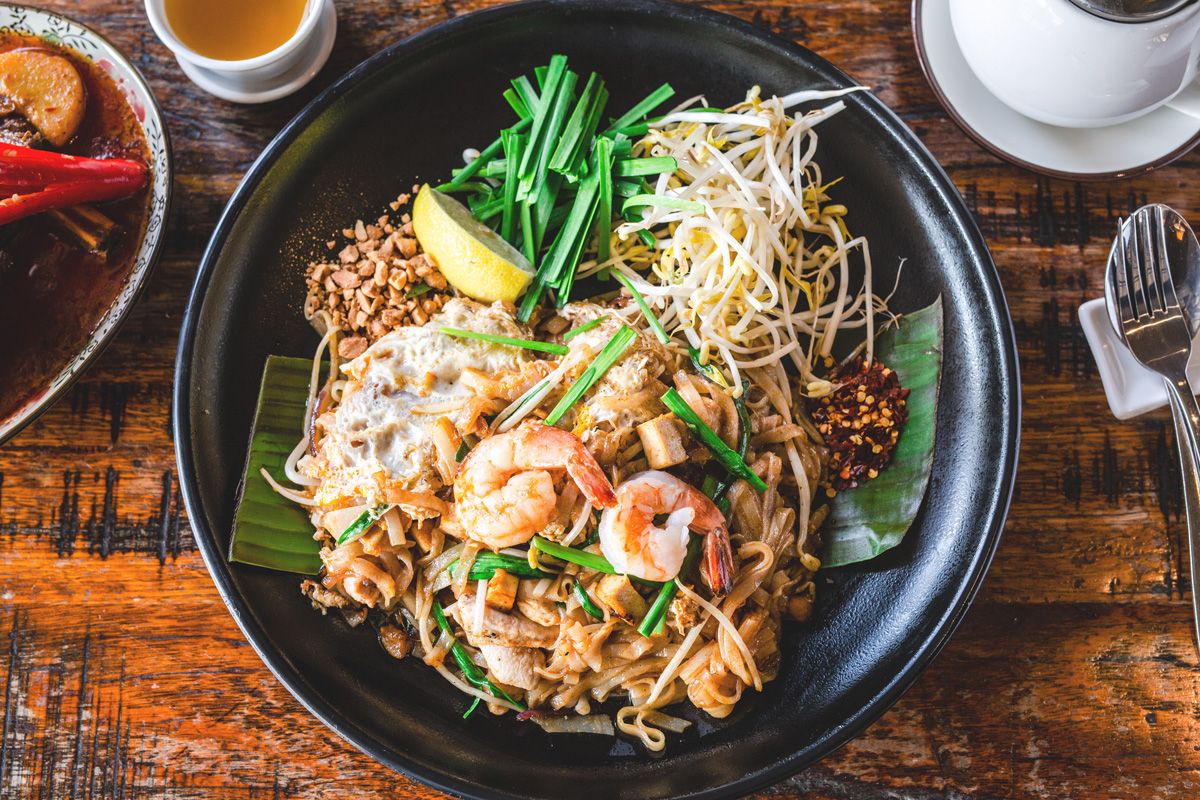 Because of their moderate flavor, the noodles provide as a foundation for the sauce and other ingredients. In addition to adding depth and heartiness to the dish, vegetables like bean sprouts and scallions also give it a crunchy texture and a flavor that is fresh.
Overall, Pad Thai is a flavorful and filling dish with a rich and well-balanced flavor profile that has gained popularity both in its country of origin and beyond.
3. How to make Pad Thai
8 oz. dried rice noodles
2 tablespoons oil
2 cloves garlic, minced
8-10 shrimp (peeled and deveined) OR 1/2 cup sliced chicken OR 1/2 cup cubed tofu
2 eggs
1 cup bean sprouts
2 scallions, sliced
2 tablespoons crushed roasted peanuts
2 tablespoons chopped fresh cilantro
For the sauce:
3 tablespoons fish sauce
3 tablespoons tamarind paste
3 tablespoons palm sugar or brown sugar
1 tablespoon soy sauce
1 tablespoon rice vinegar
1/4 teaspoon red pepper flakes (optional)
Instructions:
The rice noodles should be flexible but not too soft after 30 minutes of soaking in cold water. Drain, then set apart. Mix the fish sauce, tamarind paste, sugar, soy sauce, rice vinegar, and red pepper flakes in a small bowl (if using). In a sizable wok or skillet set over medium-high heat, heat 1 tablespoon of oil. Stir-fry the garlic for 30 seconds after adding it. Cook the chicken, tofu, or shrimp for 3 to 5 minutes, or until they are fully cooked.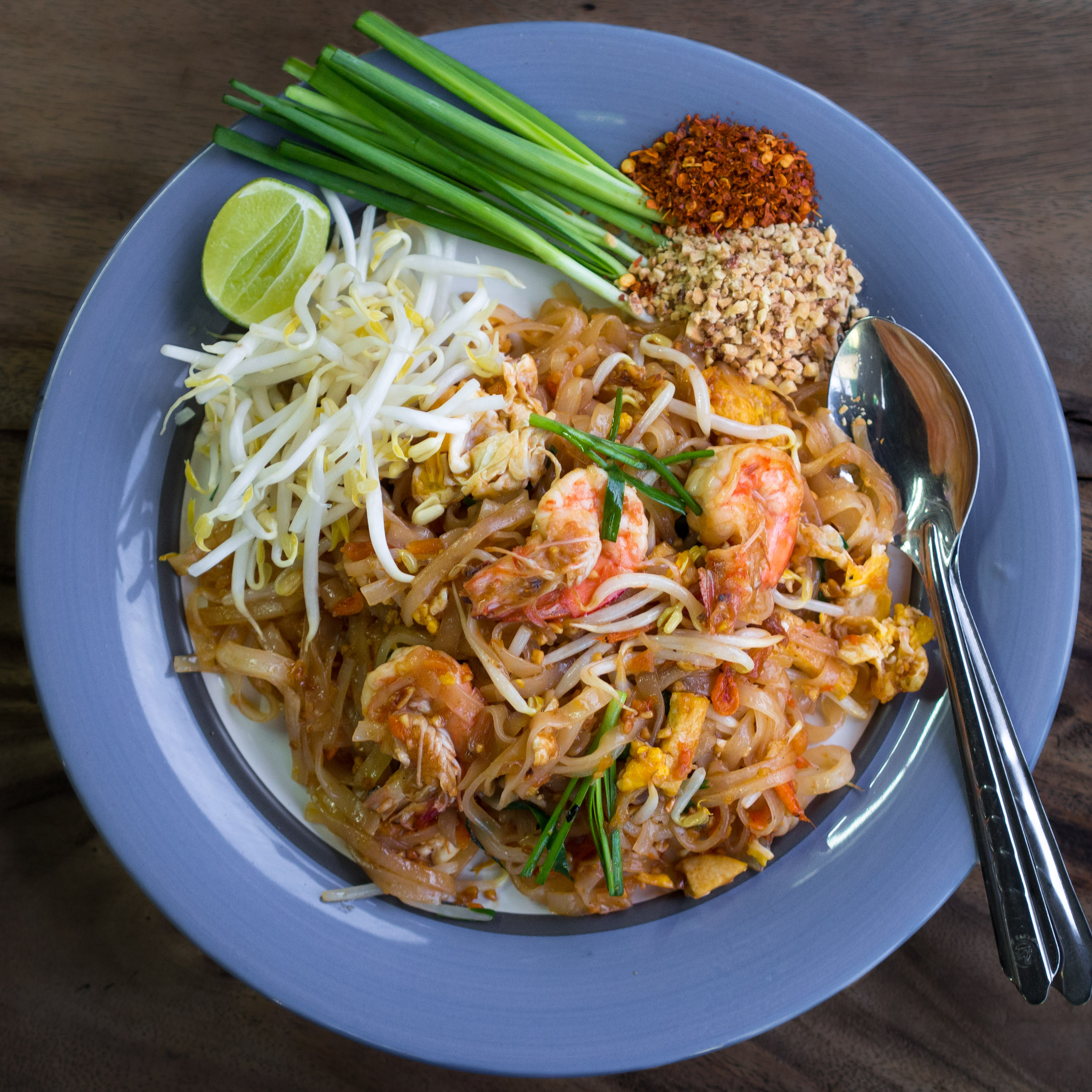 Add the remaining oil to the other side of the wok or skillet and push the shrimp, chicken, or tofu to one side. The eggs should be cracked into the oil and scrambled until fully cooked. Pour the sauce over the noodles after adding them to the wok or skillet. Toss the noodles with the sauce, shrimp, chicken, tofu, and eggs using tongs or chopsticks until everything is thoroughly incorporated. Add the scallions and bean sprouts to the wok or skillet and stir-fry for an additional one to two minutes, or until the the sprouts are just beginning to wilt. Serve the Pad Thai hot, topped with cilantro and smashed peanuts.
In conclusion, Pad Thai is undoubtedly one of the most delicious and iconic dishes in Thai cuisine. Its combination of sweet, sour, salty, and spicy flavors, combined with the chewy rice noodles and a variety of ingredients, makes it a must-try for anyone interested in exploring different types of cuisine. With its humble origins and wide-ranging popularity, Pad Thai has become a symbol of Thai culture and a beloved dish around the world. So why not give it a try and savor the unique taste of Pad Thai for yourself?