"Row the other way!" shrieked my kayaking partner as once again we veered close to a huge wall of rock. I frantically began to turn to the left and as we narrowly avoided a crash, we both burst into fits of giggles.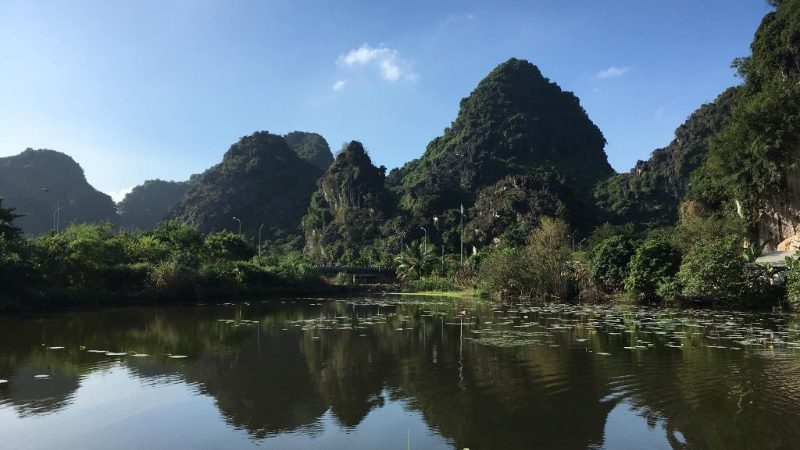 As two solo female travellers, we had hit it off on a group tour of Vietnam's Cat Ba island and thought it would be fun to pair up for that morning's kayaking excursion. What we hadn't taken into consideration was that in this water sport someone needs to lead, and as beginners neither of us could do so! We may have been going around in circles but as long as we managed to stay upright I was too relaxed to be concerned, content to bob along as my eyes greedily drank in the otherworldly landscape.
We were mere dots in a tiny vessel surrounded by statuesque rock formations jutting out of a gloriously vast expanse of water in Lan Ha Bay. Lan Ha and Bai Tu Long are the lesser-known sisters of Halong Bay, and the three bays make up the Halong Bay region, a UNESCO World Heritage site since 1994, and a popular tourist destination for much, much longer.
Lan Ha Bay is located to the south of Halong Bay and has become a key spot to visit for those in the know, thanks to its magnificent, unspoilt beauty as travellers seek less crowded, more pristine destinations. Lan Ha also has the best water conditions for swimming and diving of the three bays. One of the advantages of a group tour with operators such as Intrepid is that you get to explore lesser-known sites; on our boat trip, our local leaders anchored the vessel for the night in an area which was perfect for an after-dark dip, lit up by fireflies appearing like sparks from a flame on the water's edge.
When planning an active holiday in northern Vietnam, trekking in regions such as Sapa had sprung to mind, but I had assumed my beach days would be reserved for further south. I was surprised by the wealth of activities available on Cat Ba, which is 30 minutes by boat from Lan Ha Bay, and how lovely its beaches would be. It's the largest of 367 islands in the Cat Ba archipelago, and maintains the dramatic rock formations of the surrounding bays.
Even though it was warm when I was there, there were few sunbathers, as many visitors overlook it for the cruises of Halong Bay. That fact just adds to its relaxed charm; the clean sand was perfect to lie on while sipping a fresh coconut after the day's excursions which, as well as kayaking, included stand-up paddleboarding and beach yoga. Due to the island's hilly landscape, rock climbing is the most popular activity here and there are excellent, instructor-led climbs suitable for all levels.
The island doesn't disappoint for copious fish restaurants, but my favourite dinner was from Buddha Belly; especially exciting for vegans as it serves traditional Vietnamese hotpots with meat substitutes. For a lusciously fresh breakfast, head to Like Coffee, where I enjoyed the best egg coffee that I had in Vietnam.
So impressed was I with the Halong Bay region's rock formations, when I heard there were more inland, I had to see them. The Trang An Landscape Complex near Ninh Binh, south of Hanoi, is also a UNESCO World Heritage site and features limestone karst peaks permeated by valleys, many of which are partly submerged and surrounded by almost vertical cliffs.
The best way to take in this incredible scenery is by boat with a local guide. The mostly female rowers have a clever technique where they operate the boat with their feet; every boat ride lasts two hours, so it's impressive how hard they work on a busy day. They have a particular skill for maneuvering through underwater caves, and I was impressed as my guide did so with little head room and only a small flashlight.
After a morning on the water, stopping off at a local homestay for a buffet lunch of local delicacies was perfect respite from the heat. Staying in a homestay is the best way to experience how the locals live in the Ninh Binh region and my hosts were all wonderful cooks. As delicious bowl after bowl of rice, carrot and peanut salad, spring rolls, battered chicken and fish, spicy pork meatballs, sautéed green vegetables and tofu slices appeared on the table, the biggest problem my group had was knowing when to put down our chopsticks!
To burn off those many bowls, we then cycled the region to see the rock formations up close. It was also a lovely way to interact with residents, who are welcoming to the small numbers of tourists who visit. A grandmother standing outside her home with a baby boy in a pram waved as I cruised past. Thankfully I'm a better cyclist than kayaker, so when a flock of geese suddenly appeared in front of my bike to cross the road they did so safely as I stopped to watch, smiling to myself at this simple aspect of everyday rural Vietnam that would be so alien in my regular city life.